Gigabyte GeForce 9800 GT spec & bench (GV-N98TZL-512H)
Bellow a benchmark comparison of the Gigabyte GeForce 9800 GT courtesy of

aphnetworks.
The guys there done a good test of this graphic card which is considered as one the fastest GPU available these days, check it out.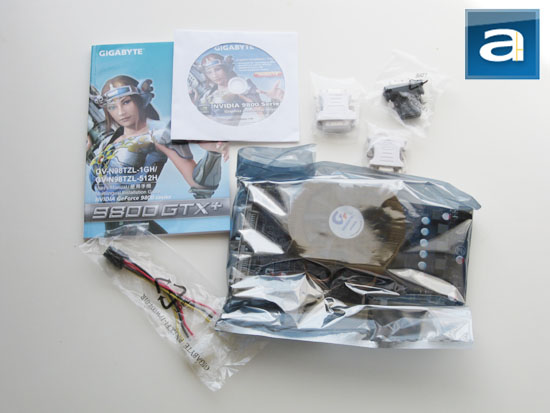 Inside the outer packaging is a thick, white cardboard flap box to protect and accommodate the actual contents. Fitted with a Styrofoam block that has a custom shaped pit to hold the graphics card, along with a compartment on the side that holds the accessories, everything is carefully packaged and ensured to be in the right order when the Gigabyte 9800GT arrives in the hands of the consumer. Out of the box, you will receive the following:
1x Gigabyte GeForce 9800GT 512MB 2x VGA to DVI adapter 1x Molex to 6-pin PCIe adapter 1x User manual (English/Traditional Chinese) - Installation guide in 25 different written languages 1x Driver/Software CD
SPECIFICATIONS comparison
GPU Specifications

9800 GTX
9800 GT
8800 GT
ATI 4850
Fabrication Process
65nm
65nm
65nm
55nm
Transistor Count
754 Million
330 Million
330 Million
965 Million
Core Clock Rate
675 MHz
600 MHz
600 MHz
625 MHz
SP Clock Rate
1,675 MHz
1,500 MHz
1,500 MHz
-
Streaming Processors
128
112
112
800
Memory Clock (Effective)
1,100 MHz (2,200 MHz)
900 MHz (1,800 MHz)
900 MHz (1,800 MHz)
1000 MHz (2000 MHz)
Memory Interface
256-bit
256-bit
256-bit
256-bit
Memory Bandwidth
70.4 GiB/s
57.6 GiB/s
57.6 GiB/s
64.0 GiB/s
Memory Size
512 MB
512 MB
512 MB
512 MB
ROPs
16
16
16
16
Texture Filtering Units
64
56
56
40
Texture Filtering Rate
43.2 GigaTexels/s
33.6 GigaTexels/s
33.6 GigaTexels/s
25.0 GigaTexels/s
RAMDACs
400 MHz
400 MHz
400 MHz
400 MHz
Bus Type
PCI-E 2.0
PCI-E 2.0
PCI-E 2.0
PCI-E 2.0
Power Connectors
2 x 6-pin
1 x 6-pin
1 x 6-pin
1 x 6-pin
Benchmark snapshots
Benchmark: FEAR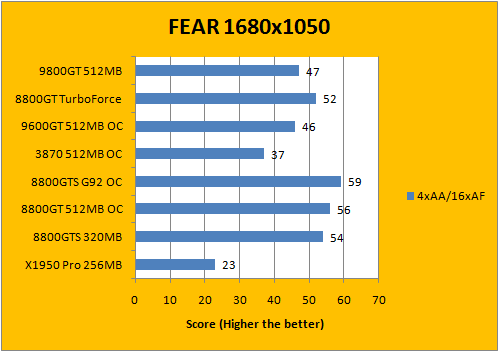 Benchmark: 3DMark06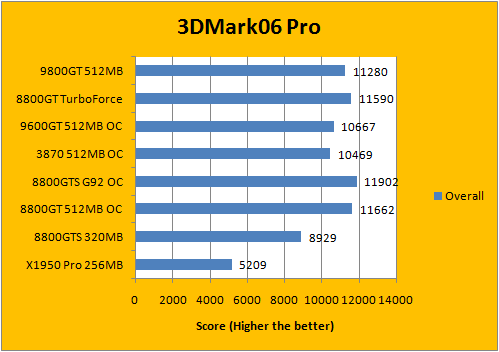 Power consumption: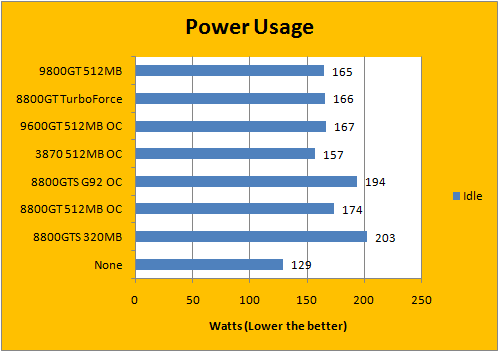 Overclocking Test: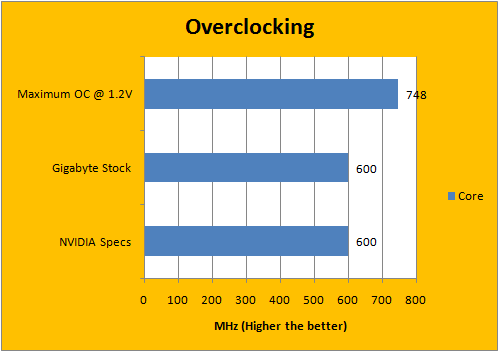 "Using Gigabyte's Gamer HUD overclocking software, risen the voltage to 1.2V on the 9800GT 512MB to see what kind of results we can get. This piece of software from Gigabyte allows you to raise the voltage from 1.15V to 1.4V (Although I kept it at 1.2V since it didn't make much difference; not to mention voltages at that point could be dangerous -- additionally, there's no guarantee that what's indicated on screen is actually what's delivered to the card); with GPU, Shader, and Memory overclocking options as standard. On the side are two graphs to monitor GPU usage and temperature.
memory
Overclocking: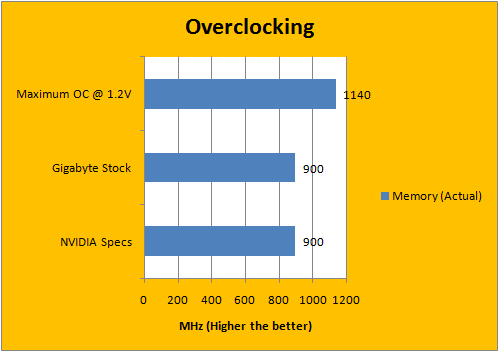 Gigabyte GeForce 9800 GT spec & bench (GV-N98TZL-512H)
Reviewed by
Mhr
on
14:54
Rating: